The industrial sector is characterized by being in constant evolution, therefore, it is necessary to optimize processes continuously and the decision making. IoTsens is aware of it and offers its clients the most advanced technological solutions. Those include SmartFactory, a solution that allows to obtain a total vision of the production of industrial plants through any device and optimize the production process.
This solution was designed for an important industrial group that offers services to millions of people every day. The needs and requirements of the client were extensively studied and IoTsens developed the Smart Factory solution that is able to monitor and analyse the activity and production of their industrial plants, providing the following functionalities:
Dashboard: Summary of the production of the plant and its sections, specifying according to months and weeks.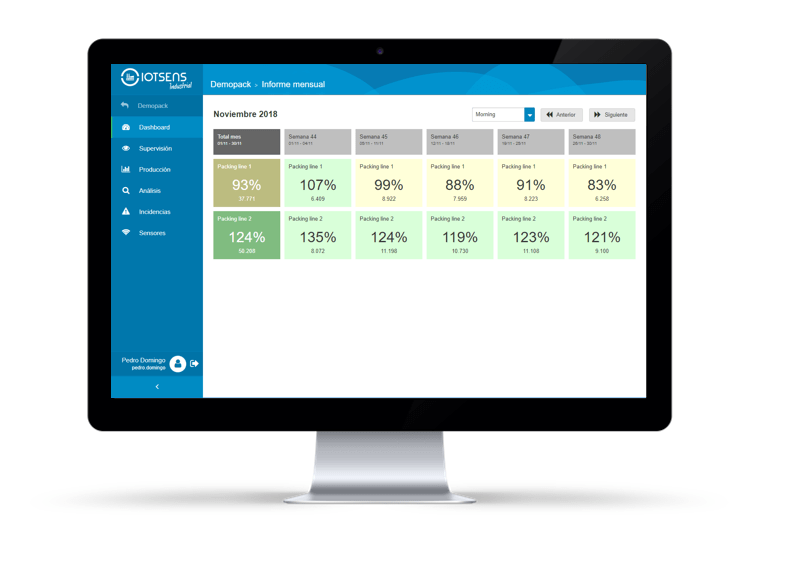 Supervision: Real-time visualization of the status of the plants through synoptics, which provide information of the production, machines situation and incidents.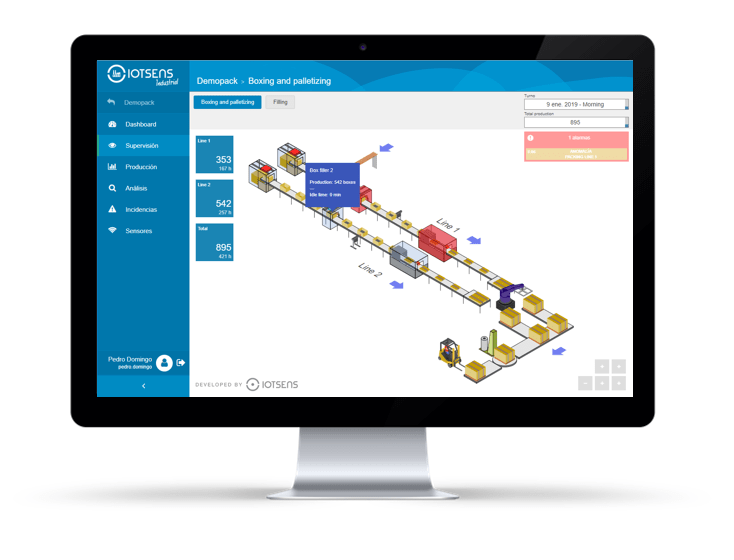 Production: Visualization of production historical data of the plant depending on the work shifts, both globally and by sections. Additionally, manual data can be entered to adjust the production in those lines that are not sensorized.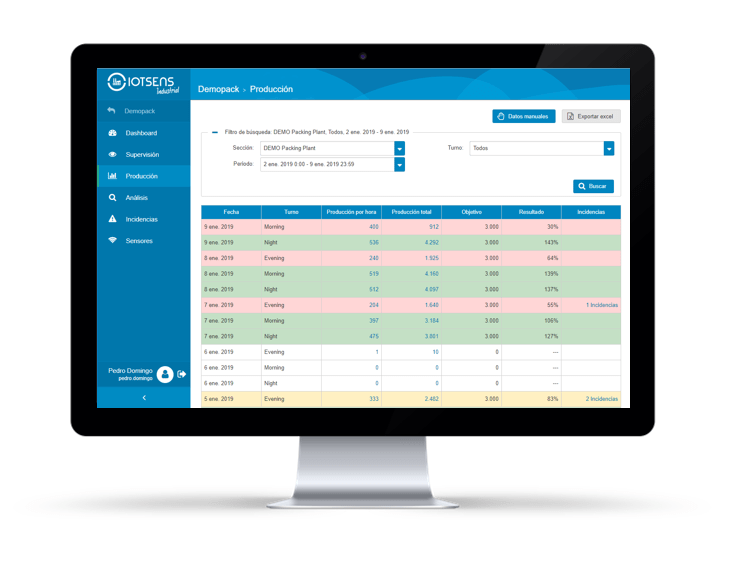 Analysis: Comparative analysis between real production and the objective production set by the company.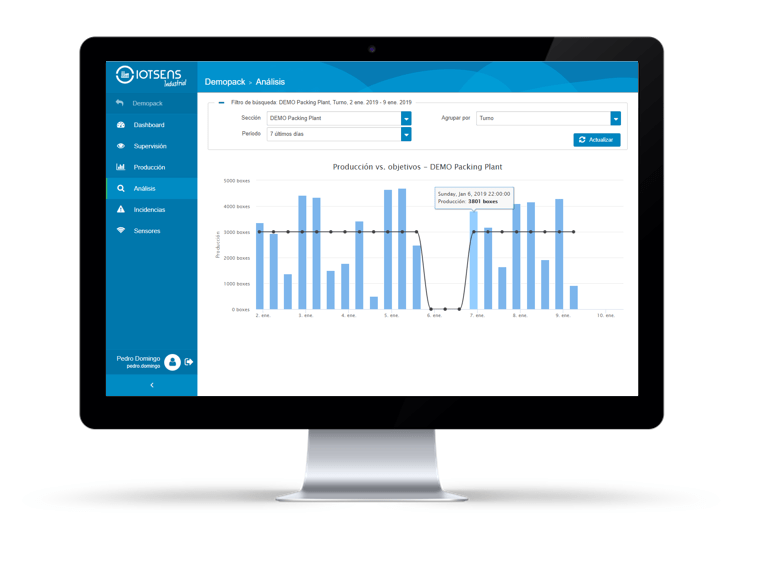 Incidents: Collection and analysis of the alarms and anomalous events that have occurred during a work shifts, offering detailed information about machine standstill times by sections.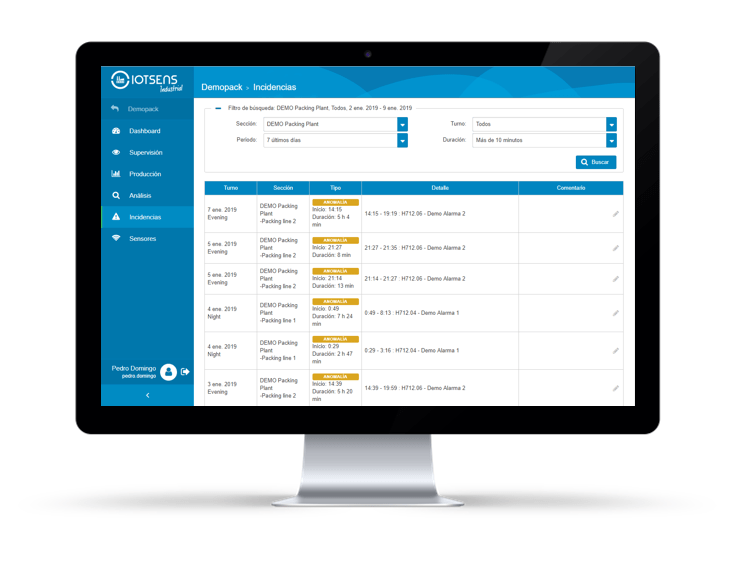 Sensors: Display of measurement historical data and machine status.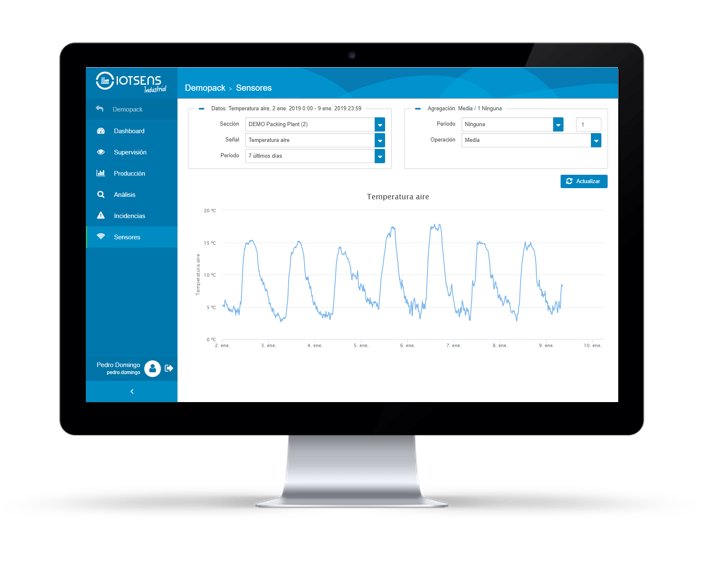 Architecture
The system reads data from PLCs through different gateways, which send the data to the IoTsens platform. These data are processed and displayed on the IoTsens Smart Factory Web application.

The architecture is designed to provide the greatest flexibility, reliability and performance using technologies such as Elasticsearch, designed for storage and consultation of large volumes of data.
Situation
Industrial plants are usually composed of machines from different manufacturers, which have different criteria to establish the structure of their data. This makes it difficult to collect the data, which can not be managed generically in many cases. One of the client requirements was to solve this problem in a thorough way and IoTsens undertook measures to sort the disadvantage out.
The first step was to adapt the data collection process in order to achieve that in the most robust way possible, the solution was able to read the data specifically for each manufacturer.
Secondly, the platform performs operations to unify different data that, due to its characteristics, may be in different formats.
After this, the information can be treated uniformly, a necessary step to calculate and manage the production of the plant.
Results
The implementation of IoTsens SmartFactory generated the client multiple benefits that made an early return on investment. Some of the advantages offered by the solution are:
Quick detection of faults and anomalies.
Detection of bottlenecks.
Improvement of production analysis and decision making.