LoRaWAN
¿What is LoRaWAN?
IoT and Industry 4.0 projects require physical devices that capture and analyze data from the environment in which they are located, as well as an appropiate communication technology capable of connecting the devices and sending all the data collected to a platform where it can be processed and analyzed. For this purpose, there are different types of communication that can help us achieve this, firstly, fixed networks such as Ethernet, mobile networks such as 4G or 5G, short-range wireless networks such as NFC or Bluetooth, among others.
Among all the types of communication available in the sector, the predominant one is LoRaWAN (Long Range Wide Area Network), a wireless, bidirectional and open-source communication protocol designed for Internet of Things devices, which, unlike other types of communication, covers long distances and collects a small volume of data. These characteristics make this communication ideal for IoT projects thanks to the low power consumption it requires and the large number of devices it can handle simultaneously.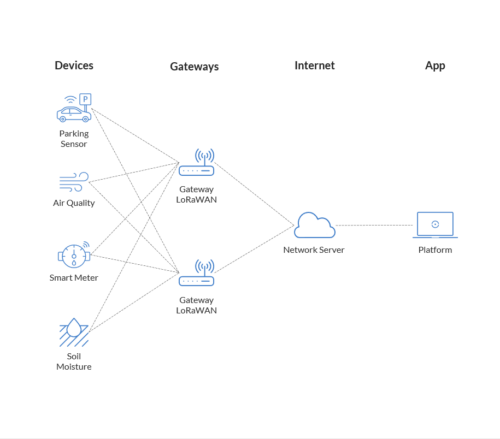 LoRa (Long Range) is the type of modulation, known as CSS (Chirp Spread Spectrum), used by the devices to achieve long range using low power while LoRaWAN is the communication protocol that communicates the LoRa signal with the Gateway. The purpose of the Gateway is to create a wireless network to cover the sensors and communicate bidirectionally with them, and finally, to establish a direct communication with the Network Server.
Benefits of using LoRaWAN
Bidirectional Communication
End-to-End Security
Low-Cost Deployment
Strong Indoor Penetration
Long Device Battery Life
Long Coverage Range
Unlicensed Frequency Bands
Unlimited daily Messages
LoRaWAN Products
Application Areas
There are a multitude of applications that arise through the use of LoRaWAN, for both private organizations and public entities belonging to different productive sectors. Some of them are listed below:
Agriculture:This technology can be used for the management of crop fields through the acquisition of climatic data such as temperature, humidity, wind speed and direction, rainfall, solar radiation, etc. In addition to checking the levels of soil moisture and temperature to carry out a control of soil quality. With the above parameters we achieve an optimal irrigation management of any crop.
Water Management: Through the installation of smart water meters that collect information on the consumption level of buildings, communities and cities, water level meters for reservoirs or canals, or water quality probes to analyze different water parameters, among others.
Parking: Management of parking spaces through devices that detect the presence of vehicles in real time.
Environment: Using different devices, environmental indicators present in an area with a deployed LoRaWAN network can be analyzed to help improve public health.
Smart Buildings: Reduced operational costs and improved efficiency through LoRaWAN devices that measure temperature, humidity, movement, inflows, fire and CO2 detection, among others.
Industry: Real-time data collection for preventive maintenance, increased efficiency, cost reduction, customized alerts, etc.
Smart Cities: Dynamic responses to problems are achieved in real time thanks to the continuous monitoring of different key parameters that optimize their resources.
In addition to those listed, there are solutions that are characterized by meeting specific and particular customer needs, so it is quite common to rely on experts who can provide a customized solution for the problem. Contact us if you have any needs that we can help you with at info@iotsens.com
what is lorawan
what is lorawan