Barcelona, November 16th, 2022. – IoTsens has been present in Barcelona to participating in Smart City Expo World Congress, an international reference event that has been held since 2011 with the aim of empowering cities and collectivizing urban innovation worldwide.
A global meeting consisting of three main areas: congress, exhibition and events. Hundreds of global companies and organizations have gathered at the exhibition to interact with professional attendees from around the world and show the world their cutting-edge projects and smart solutions implemented.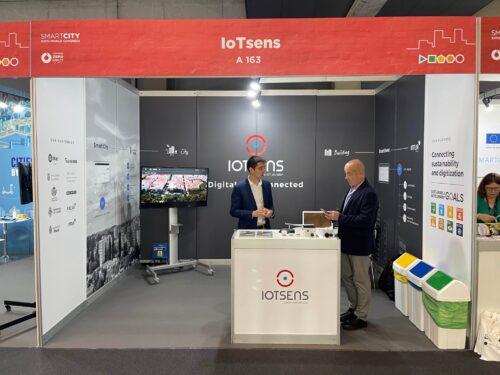 In this context, Ignacio Llopis, Managing Director, Román Almela, Business Manager, Raúl Castelló, Business Development Engineer, and Manolo Gasch, Innovation and Technology Manager of IoTsens, have shown in the company's own booth (A163) the IoTsens intelligent solutions for the management and control of buildings (Building), as well as its solutions for urban environments that allow the creation of Digital, Connected and Sustainable ecosystems (City).
Through its booth, the company has managed to create new contacts and thanks to the involvement in the other areas of the event, very interesting business opportunities have been established. Last year, the Smart City Expo World Congress celebrated its tenth anniversary with a comeback edition that exceeded all expectations and this year has achieved record numbers with figures exceeding the pre-pandemic volume.