María Ramos Escribano, graduated in Mechanical Engineering from the Polytechnic University of Valencia, her career begins as a process engineer at Ford, continues with her position as head of mechanical engineering at the renewable energy company, Gamesa, and later in Efi Cretaprint as manager of ceramic and building materials engineering. Currently, she is IoTsens Hardware Director.
1. As IoTsens Hardware Director, what are your daily functions?
One of my main functions is to understand the needs of the clients and translate them into specifications. Moreover I should also carry out other functions such as planning the project together with the designers and programmers and reporting technical issues and deadlines to manage them with the client.
Now we are working hard on the quality aspect. We want get a robust products when they reach the client, that is why we dedicate time to test the products, to generate test protocols that help to validate both prototypes and serial production. At the same time, we should be able to investigate new technologies and components that help us always keep up with the latest trends.
For this reason, it is very important to manage the interaction with other departments, so that we are all aligned to reach the common goals.
2. Reviewing all the IoTsens projects you have managed, which would you highlight?
One of the great advantages of this job is that each product on which we apply the IoT is totally different from the previous one. That allows us to explore many fields, working in many alternatives so the learning is continuous.
3. From your position as department head, what aspects do you consider essential to lead a team?
Listening. Listening to understand. On the one hand, customer needs, since although in many occasions we are able to offer much more than he expects, we are not experts in the client's product, so it is necessary to understand in detail what are its requirements
On the other hand, it is necessary to listen also to your team, because it is the one that will report the incidents. This is very important to be able to assess the best possible solutions taking into account the short and long term.
4. Given your experience in the technology sector, where do you think the IoT sector will go?
I strongly believe that here comes a new revolution: both industrial and personal. We arrived home and we want the vacuum cleaner to be fresh, that the refrigerator launches a list of basics so the supermarket can bring the products to your home,  the optimal temperature, etc.
All this is extrapolated to the industry. Machines and equipment that adjust their maintenance based on their operating conditions, machines sending messages of how many litters of lubricant you have to collect for the change or what references of bearings you need to request because they vibrate more than the account. All this information in real time allows you to take logistics a step further, better plan production, control maintenance and act accordingly.
In a few years we will not know how to live without all of this.
Yesterday, March 8th was, as every year, the international day to celebrate the rights achieved by women and the assertion of all that remains to be done. María Ramos, from her experience, offers us her point of view on the situation of women as responsible in a highly masculinized sector.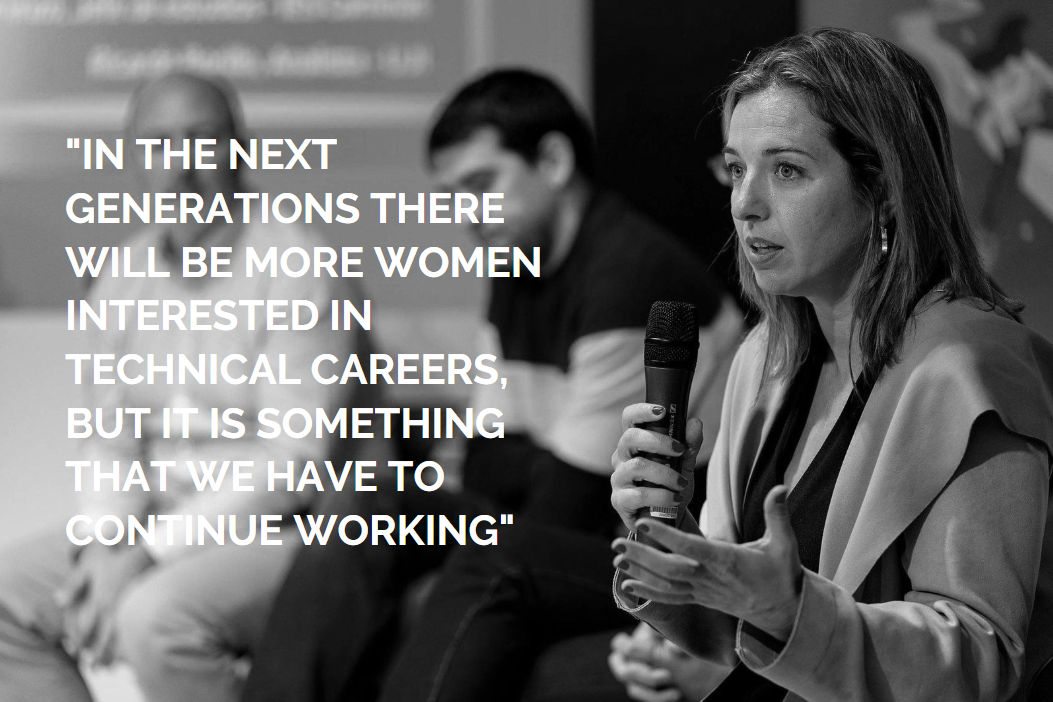 5. Do you think that equality in the technology sector is getting closer? Based on your experience, what keys would you highlight to achieve it?
I believe that the key to equality is in education, in raising the curiosity of girls since childhood, doing experiments and trying to discover the reason for things. Little by little this is working better, and in the next generations there will be more women interested in technical careers, but it is something that we have to continue working, from the schools and of course from home.
6. What challenges have you had to overcome throughout your professional career? Have any of these challenges been affected by gender stereotypes in the sector?
I remember once, when a client came to pick me up at the airport in Helsinki. A machine had been broken and I was going to do an exhaustive analysis to see what the cause of the failure was and when he saw me his face betrayed that he was not exactly the person he expected to meet. The next day we were working on the machine, doing a thorough exploded view, piece by piece, measuring all the tightening, flatness, taking samples of oxides, oils, etc. After three days of work, we obtained strong conclusions about the cause of the failure, all technically justified. Conscientious work ends up bearing fruit.
7. When did you start to be interested in technology? What would you say to the young women who consider studying an engineering career?
My head has always been more science than letters. I liked to solve problems, find solutions as simple as possible to things and see that they work, so I was clear from the institute that I would opt for engineering. I remember that the circuits, hydraulic or pneumatic circuits were great for me in college, although I think it is one of the fields that I have exploited the least in my professional career.
To all the women who consider an engineering, I would say that it is hilarious. That there are a lot of things to do. I have worked in automotive, renewable, digital printers and now on the internet of things … The options and fields are endless.
8. To conclude, what advice would you give to women who aspire to get a position of responsibility in any profession?
Constancy, continuous learning and humility are basic. Feel good about whatever you do, so that curiosity leads you to continue learning, to improve day by day. Provide all your worth in the day to day and accept that there will always be someone who knows more than you, hence the need to know how to listen.
Making a good team will help you grow, personally and professionally.