[et_pb_section admin_label="section"][et_pb_row admin_label="row"][et_pb_column type="4_4″][et_pb_text admin_label="Texto" background_layout="light" text_orientation="left" use_border_color="off" border_color="#ffffff" border_style="solid"]
Background
Water is a scarce commodity in some countries of the world so it is very important to achieve great management of it. One of these countries is Saudi Arabia, where IoTsens applies one of its solutions based on "Internet of Things" providing efficient water management, IoTsens "Watchmeter"- Data Logger.
In the Kingdom of Saudi Arabia there is an urgent need to increase the water capacity in order to meet anticipated growing demand to maintain security and reliability of the water systems. Therefore it is imperative to find ways for better and efficient utilization of water system. A key element in this effort is to understand and classify water behavior within various load centers or end-user facilities.
Project description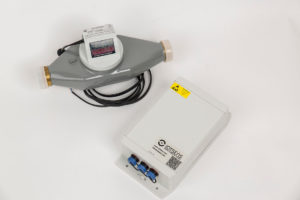 "Water End Use Project" started with a study of data from several sources in order to define the current situation. For the initial stage, it was made a deployment of hundreds of IoTsens – "Watchmeter" Data Logger in five of the most important cities of the country: Dammam, Riyadh, Mecca, Medina and Jeddah. IoTsens – "Watchmeter" Data Logger records data at a higher frequency than 50Hz by sensors that allow final user to discriminate between water user consumption using consumption patterns.
Due to the success of the first deployment in the main cities of the country thousands of IoTsens – "Watchmeter" Data Logger were finally installed in twenty more cities of Saudi Arabia where currently it can be collected water consumption data in real time from households, providing citizens and government high quality information about water usage.
The project was implemented with the collaboration of the following organizations:
Objectives
The main reason to start the study was to implement a sustainable water consumption model. The study was focused on the knowledge of customer's behaviors in the water consumption and the implementation of efficiency water usage campaigns and a precise analysis of the effectiveness of various water efficiency measures applied by the Saudi government.
Results
After the implementation of the project in twenty five of the most important cities of the Kingdom of Saudi Arabia the Saudi government achieves high quality information creating water usage patterns for each daily activity of its citizens. Launching awareness campaigns in Saudi Arabia where about 80% of its land is a desert. The result of these campaigns will help the government to save tons of water being very cost effective in economical terms.
[/et_pb_text][/et_pb_column][/et_pb_row][/et_pb_section]